NEW TALES of NOSTALGIA


The same spirit that bound us
from the past to the present binds us to the future


Scroll
Advisory on operation
for preventing further
spread of COVID-19

We are taking measures for hygiene management, as such it is our utmost importance that our guests and staff are secured to be safe and well-being.
Also, we have been limiting the hotel services as below in an effort of avoiding any type of droplets transmission.

◆ Public Area

Frequent cleaning and sanitization
Placement of hand sanitizer throughout the hotel
Maintaining of safe physical distancing

◆ Hotel Staff

Mandatory temperature checks before and after work
Wearing of masks, gloves (plastic or cloth), where is appropriat

◆ Arrival and Departure

Mandatory temperature checks and sanitization of hands, as well as completion of health-checking form upon checking in
Installation of acrylic board on the reception counter
Suspension of porter service and valley service (unless otherwise requested)

◆ In Residence

Refraining from visiting guest's rooms as much as possible
Suspension of turndown service
Sanitization of remote controller and service directories

◆ Housekeeping

Thorough disinfection, sanitization and ventilation of each guestroom once vacated
Gargling, handwashing and sanitizing, as well as disposing gloves each time of room cleaning

◆ Restaurant & Bar

Limitation of seating for safe physical distancing
Frequent and thorough sanitization, including tables, chairs, handrails, door knob
Temperature checks and hand sanitization upon arrival
Replacement and sanitization of menus each time after usage
Serving salt, pepper and sugar individually or separately wrapped

◆ To all guests & patrons

Those who are with a temperature of 37.5℃ (99.5℉) or simply feel unwell are asked to please refrain from visiting property
Wearing masks in the hotel
Hand sanitization upon each entry to the hotel, restaurant and bar
Maintaining safe physical distancing in the hotel
All guests and patrons are requested to please ask for assistance immediately to staff nearby when you feel unwell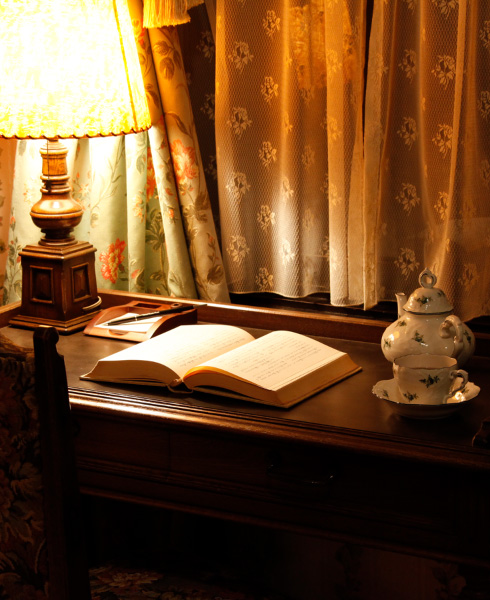 New Tales of Nostalgia
Since the hotel opened in 1935, Unzen Kanko Hotel continue to change in accordance with the times, while also leave an ambience of its beginning.
An impressive exterior and antique dining welcomes you with a warm and natural atmosphere engendered by each and every detail in the property.

We will do everything to make your stay memorable as a place where history and culture connect, meets past and future.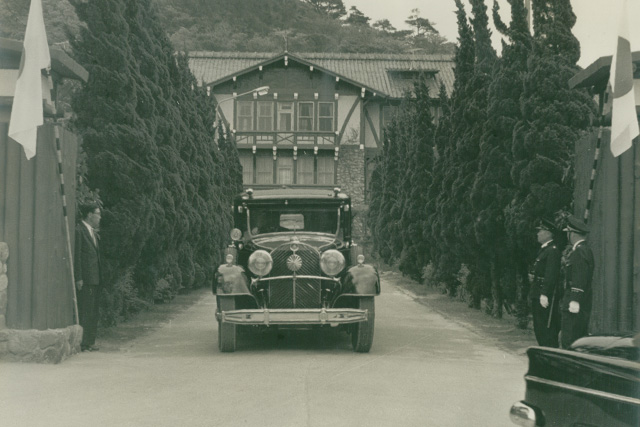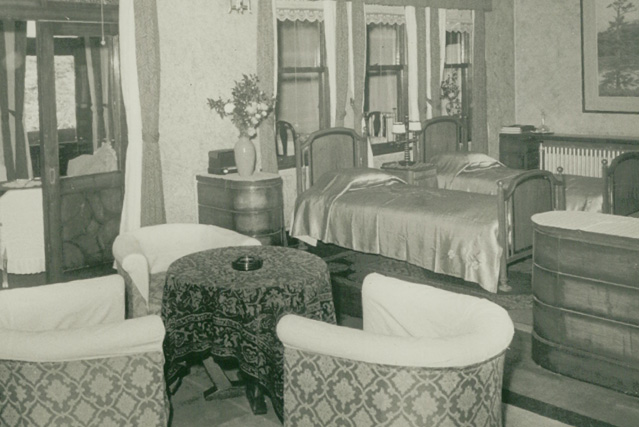 EXPERIENCE LIKE "LIVING" at a HOTEL.
Rooms Information
We have updated our property after 5 years of the big renovation since 2004.
Rooms including bathroom area were renewed for more comfortableness, still remaining original warm atmosphere of classical rooms.
The new William Morris's wallpaper and claw foot tub create an elegant impression, which are in harmony with a warm atmosphere of mountain hut.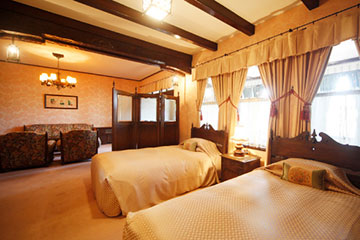 Suite Room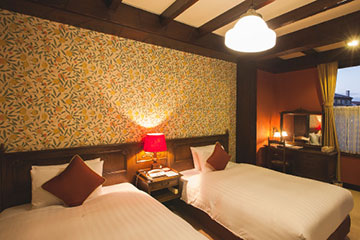 Oriental Twin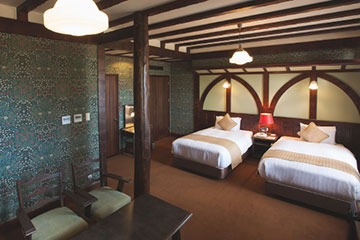 Premium Twin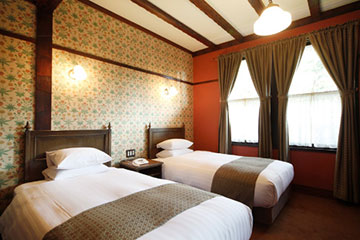 Superior Twin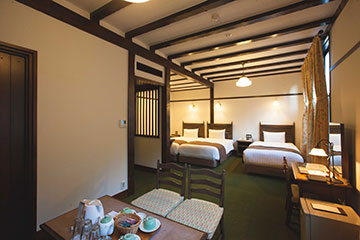 Superior Triple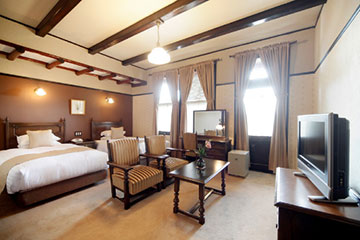 Deluxe Twin
Deluxe Double
Restaurant
& Bar
We are always continuing pursuit of a flavor which meets all the guest's and keep up with the times.
A marriage between top-grade seasonal local foods and traditional French is the "Unzen Cuisine" which makes a splendid experience.

Our dining room has an impressive high ceilings and polished wooden floor, and most part of the floorboards are remaining as it was on our opening in 1935.
Dining room has not only been space for having meal but also connecting people and culture.
There used to be dance party here, gorgeously dressed up people of culture and business gathered to exchange their information for creating relationship.
Even today, concerts or network events are taking place regularly.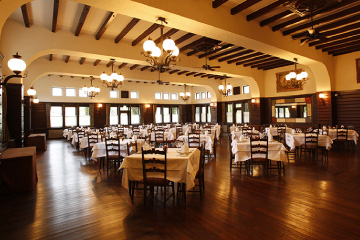 Dinner
Unzen's French course that makes full use of local ingredients.
The chef's proud menus are all luxurious lively ingredients. Enjoy the exquisite taste of Unzen in a nostalgic and quiet dining experience, and this is the real pleasure of traveling.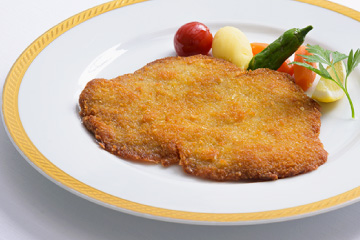 Lunch
You can enjoy the traditional beef curry of which recipe has been passed down from hotel's beginning, or a course menu which make use of seasonal foods in Unzen・Shimabara area.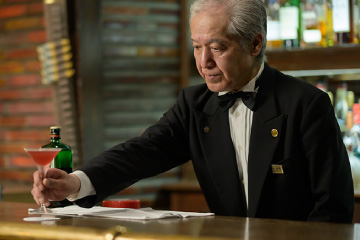 Bar
You will find a massive, calm and relaxing atmosphere as stepping into the bar. Please enjoy your time in this historical space with our original cocktail.
Hot Spring
Since our establishment, we always welcome our guests with fresh and new hot spring water every single day.
Hot spring in Unzen is and has always been soft and smooth, blessings of Unzen's nature warm both your heart and body up from the very inside.
A condition of natural hot spring tends to be affected by climate or any kind of environment.
Since the water temperature of the gushing point is quite high (93.5℃=200℉), we add some cold water for adjustment.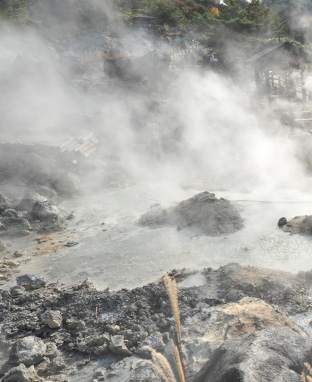 Over a thousand years of history in Unzen Hot spring
Unzen firstly civilized as the famed Buddhist monk "Gyoki" established Manmyo-Ji Temple here in 701.
Unzen has been gradually advanced as a hot spring town from 350 years ago after Shimabara Rebellion.
Then, it became famous in western countries because of its strong acidity and sulfur of the hot spring, which was very unique to westerners.
In the Meiji, Taisho and early Showa era, Unzen developed itself further as a resort of the westerners in Shanghai Settlement at that time.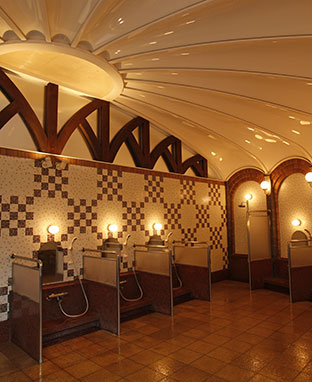 Sulfur spring bath
Renovation of hot spring bath made it pristine with dome type ceiling and stained glass, tyles arranged in Art-Deco style which represent the best way of being "Onsen" in European-style building.
While staying at a western-style hotel, you surrender yourself to the Japanese drop of grace, this may be the most unique and exciting experience of your journey.
Banquet
Our hotel launched our history as a shipping company, as such the ideal of our hotel is a cruise ship presents comfortable moments while making a voyage.
You are to spend a luxurious time in here with your own style, just like you are in your second home.
It is not just "staying' in the hotel", but what we aim to create is making place for you to feel like "living in hotel".
ACCESS
Obama-cho320, Unzen-city, Nagasaki, Japan 854-0621
TEL +81-957-73-3263